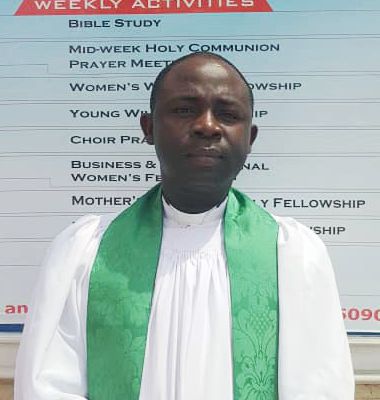 The Rev. Olaoluwa Emmanuel Akinsola
ASSISTING PRIEST
The Reverend Olaoluwa Emmanuel was born on 24th April; 1982. He hails from Ayetoro Ekiti in Ekiti State. He had his primary education at St Andrew's Primary School Isinbode Ekiti between 1986 and 1992 after which he proceeded to Obedu Community Grammar School, Isinbode Ekiti, Ekiti State, Nigeria between 1992 and 1998. He had National Diploma in Quantity Surveying (Distinction) from Ondo State Polytechnic, Owo in 2004.
The Reverend is a first class graduate of Quantity Surveying from the University of Lagos where he also had his Master's degree in Construction Management. A member of Toastmaster's International.
He was baptized on 3rd April; 1983, confirmed 29th October 1995, trained and licensed a Reader on 30th November 2008 by the Diocese of Lagos Anglican Communion until he was assigned Minister in charge of New Life Anglican Church, Okun Ajah, Lekki, Lagos on 15th March; 2015.
He attended Lagos Anglican Seminary, Marina, deaconed 2nd July 2017 and Priested 7th July 2018. He served as Pastor in Charge of New Life Anglican Church, Okun Ajah between 2nd July 2017 and January 17th 2019. He resumed at All Souls Church, Lekki on January 18th 2019 where he currently serves as a Curate till date.
He got married to Olayinka Felicia in November 2013 and the union is blessed with two children.
He had authored books with the following titles: Christian Rights and Duties; My God, Can I go ahead; Biblical Perspectives of Love and Classical Sermons – Priesthood Ordination Edition.