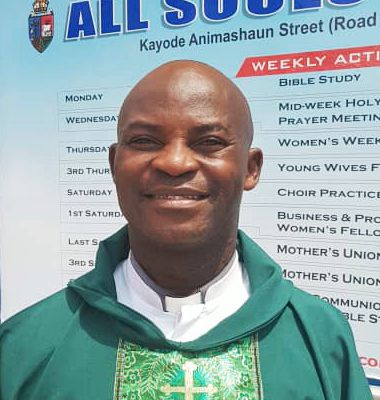 The Rev. Canon R. O. Gbenle
ASSISTING PRIEST
The Rev Canon Raphael Oladapomoye Gbenle was born on 24th October 1967, in Lagos State a native of Ijomu Oro in Kwara State Nigeria.
He attended St Thomas Aquinas Primary School, Surulere 1974-1979. Obele Community High School Surulere 1980-1985. University of Lagos 2006-2011 first degree in Guidance & Counselling Qualification (B.Ed), Lagos Anglican Seminary 2008-2010 Qualification (DIP.TH, DIP.RS),  Masters Degree University of Lagos 2016-2018 (M.Ed) in view.
He got married on Saturday 15th April, 1995, to Mrs  Funmilayo Felicia Gbenle. The Marriage is blessed with four children.
He got ordained as Deacon On Sunday 3rd of July, 2010. Priested Sunday 4th of July 2011. Made a Canon on Monday 7th May 2018.
He was Vicar, St John's Brass Church from Thursday 29th July – 17th January 2019. Curate at All Souls Church, Lekki, from Friday 18th , 2019 till date…..